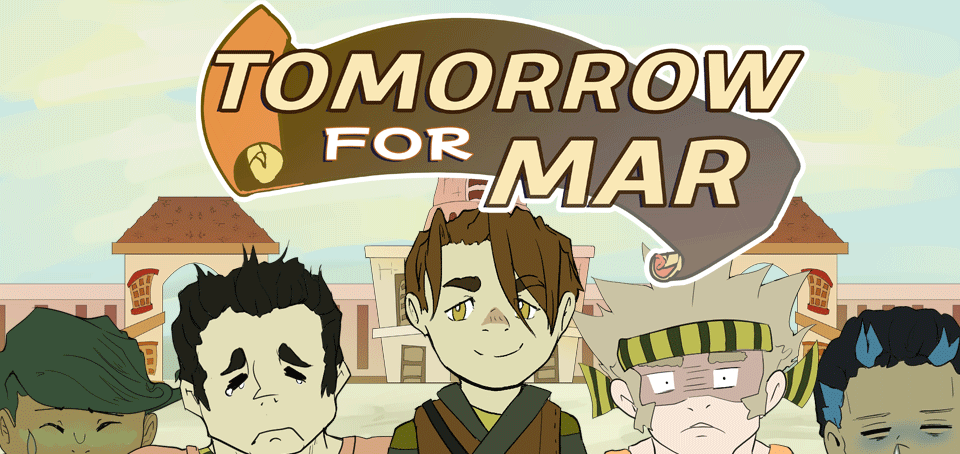 Tomorrow For Mar
A downloadable game for Windows, macOS, and Linux
---
Pass your final, graduate University and... finally confess?! Tomorrow for Mar is a 2.5D VN about crushes, tricky finals and starting a new chapter of your life.
---
Cast spells on a large cast of quirky NPCs in Tomorrow for Mar, a 2.5D VN about the trials and tribulations of university, university tests and those pesky uni crushes. Mar needs to collect three potion ingredients in order to pass their final, but they get paired up with their longtime crush to do so! Cast spells, collect ingredients and confess!
This game features:

A 2.5D environment you can walk around and explore
A non-binary protagonist
Magical spells you can cast on a large cast of quirky NPCs, each with unique reactions
A cute little love story between two shy nerds
Drink??? Snot-flavored coffee?? (Ew).
---
Tomorrow For Mar was originally created for the tiny games bundle.

By purchasing this game you are directly supporting independent game developers (me :D) and allowing us to continue our passion of makin' gaems. I loved working on this title and was honored to be able to participate in this bundle and would love to keep making games!
Purchase
In order to download this game you must purchase it at or above the minimum price of $3 USD. You will get access to the following files:
Tomorrow for Mar 1.01 PC.zip
70 MB
Tomorrow for Mar 1.01 Mac.zip
71 MB
Tomorrow for Mar 1.01 Linux.zip
73 MB
Tomorrow for Mar 1.021 fr Linux.zip
73 MB
Tomorrow for Mar 1.02 fr Mac.app.zip
71 MB
Tomorrow for Mar 1.02 fr PC.zip
70 MB
Comments
Log in with itch.io to leave a comment.
It was a cute game (灬º‿º灬)♡
Cute game! But I can't find the familiar's whisker so would appreciate a hint :)
I have the other two ingredients, and I've got the clue about Dr Greene's familiar being at the clinic, but I can't find any leads there... I feel like I must be missing something obvious?
In order for the whisker owner to show up, ASK the barista about the Whiskers of Familiar! :D
Ah, I completely forgot I hadn't tried all the "ask" options with the barista! And with his allergies it seems such an obvious thing to try now :)

I've finished now, so thanks for the hint and for making the game - I enjoyed playing, and the ending was sweet.

cute! i managed to miss the fact that you can walk through the crowd after helping bro which stumped me for a while, but this was fun!

So glad to hear you enjoyed it!
I'll keep in mind for future games to make sure that any changing scenery from puzzles is more readily noticeable, haha. In the meantime I'll write up a walkthrough, in case anyone gets stuck.
Thank you so much for playing!
I had to go around casting the cheese spell on everyone. A+ game.