The Far Rings (Full Game)
A downloadable Visual Novel for Windows, macOS, and Linux
Available as download on PC, Mac, Linux. Also on Steam!
OUR WEBSITE: www.thefarrings.com
The Far Rings: A Space Opera Visual Novella (V1.0)
"Play as Athena, a doctor of mixed heritage torn between two worlds, as she tries to find her true home alongside two possible suitors!"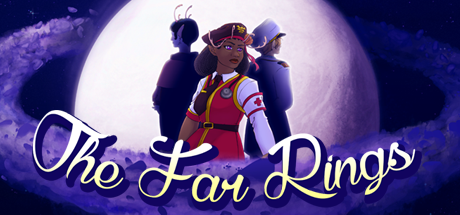 A Space Opera Visual Novella
Summary: Experience an intimate space opera in this Visual Novel with meaningful choices and multiple endings! Play as Athena, a passionate young doctor and sole survivor of a terrible incident.

Three days remain on the trip 'home'—with only the ship's unsettlingly polite captain and a cryptic alien war criminal for company. But is everything really as it seems? Uncover their secrets as Athena decides where she truly belongs.
---
Originally made in 48 hours as part of Global Game Jam 2019 with the theme of "What does home mean to you?"
This is the full game!
---
Credits:
Music Team:
Special Thanks:
| | |
| --- | --- |
| Status | Released |
| Platforms | Windows, macOS, Linux |
| Rating | |
| Authors | Heiden, Lac The Watcher, aMira Kim, Rye |
| Genre | Visual Novel |
| Made with | Ren'Py |
| Tags | amare, Dating Sim, Female Protagonist, Futuristic, global-game-jam-2019, Otome, Romance, Sci-fi, Short, Story Rich |
| Asset license | Creative Commons Attribution_NonCommercial_ShareAlike v4.0 International |
| Average session | About an hour |
| Languages | English |
| Inputs | Keyboard, Mouse |
| Accessibility | Subtitles |
| Links | Steam, Website, Support, Twitter, Instagram, Facebook, Tumblr |
Install instructions
1. Click on the download button matching your computer (PC, Mac, or Linux).
2. Extract the zipped folder.
3. Click on the 'TheFarRings.exe' to open the game. :)
Comments
Log in with itch.io to leave a comment.
story - great and emotional

music - amazingly fitting

characters - incredible and lovable

art - beautiful to look at
I just finished this game and I'm still processing this whole drama. I mean, it was a lot, specially after so many bad endings. (I think I got them all ;A; )

I downloaded this beacause, well, I like drama. I like aliens. I'm thirsty for space opera stuff and when I saw this I knew I HAD to play it. It was collecting dust on my visual novels folder since 2021, until i finally decided to give it a try.
And it was totally worth it.

I can't believe this was made in 48 hours. Like, the writing is so good. All features functions perfectly and it's a wonder to look and play. I loved little Odi Jr., too. <3 (I named it Piplup on my first run FMKFJMSKDJFMGSKDJFMGSJKMD)
The story was deep and the themes were really well explored. War, military, prejudice, innocence, fear, anger... All of them so well written, so well explained, so well tangled. I really loved it. It was a feast for my little brain.
And I NEED to talk about the character designs! They're all INCREDIBLY DETAILED and very pretty!!! I noticed how much thought and attention they must've gone into while I was drawing fanart, because oh boy, how many little things I didn't notice!!!!! Woah!!!!!!!

Both good endings (and CG's) were great. Especially Chiron's. I loved the voice acting too. Their voices were so expressive!!!

This game is great and I must congratulate everyone that participated in this. Thank you all for creating it!!! <3 <3

[SPOILERS AHEAD]
And the last dialogue we have with little odi when we part ways on chiron's good ending... damn... when it said he felt regret I WAS SO SAD, MY HEART WAS SO BROKEN, THIS ENDING WAS SO BITTERSWEET!!!!!!!!! I WISHED WE COULD ALL BE HAPPY TOGETHER FOREVER IN THE FAR RINGS :(((((((((

Awwwww!!!!! Omg thank you so much for playing and glad to hear you enjoyed it!!!
Happy to hear all the little details came through, we really enjoyed putting all of them in.
And the original version of this game was made in 48 hours (black and white backgrounds, non colored sprites and it only covered the first 5ish k of the full script). We did do a lot in those 48 hrs (all the music was made, the first draft of the script was finished, title screen done, sprite lines done and bg lines done) but we definitely didn't create this entire project in that weekend span! Haha. After the initial game jam was over we decided to finish it and did so over a span of 5 months. So the original framework was done in 48 hrs. :) All the neat bells and whistles came later, haha.
Again thank you so much for playing and oh???? Fanart??? 👀👀👀
Amazing! It took me a while to keep everyone alive, however it was worth it. I was really engaged in the story and I loved both characters, I laughed a lot when I was eavesdropping on Chiron. Great game as always
so is the demo part 1 or what comes out october 5 is that part 1? and is tomorrow part 2?
Hi! No, the demo currently up is from January. We're planning on releasing the full game (minus voice acting and an additional ending) later today in 10ish hours. We 're having a release party for the team and we'll be making all the files public then ! Thank you for reaching out !
will it still come out today? or tomorrow?
Hey! Sorry for the late reply. Thank you so much for your interest in our game! It's out now on itch and on our Steam! We had a lot of delays having trouble with implementing Steam Achievements, so we pushed it to the last moment in hopes we could fix it in time (unfortunately not).
We hope you play and enjoy it, and if you have any feedback or spot any bugs, don't feel shy in sharing! Have a nice weekend.
HMMMMMMMMMMMMMMMM. :B Hello Hmmmm!
Nice work so far! The art style is really nice (looks very clear and the colors are pleasant) and the story is interesting with the different perspectives involved. If you continue to develop it, it would be nice to have choices more often. Even if some of them don't have long-term effects, it adds some nice flavor and immersion - I really liked being able to choose the little robot's name. :D My favourite choice was the yes/no to listen to the broadcast since it created a branch where I could play it again to explore the other option. (I think in general, being able to choose between locations is nice since it lets you explore what you're currently curious about!)
Since you're planning another part, I think it would be nice if you got prompted to make a Save at the end of this part so your choices could carry over to the next part.
A couple of small things in the options menu: It would be nice with a fullscreen windowed mode (a window covering the whole screen but without the border). And maybe have a brief explanation of the settings if you hover over them or click a little info/question icon - for example I wasn't sure if Auto-Forward Time would be faster or slower if I raised it (am I increasing the speed or the length of time it's displayed?).
Looking forward to seeing Part 2!
I love you, my friend, you are a good person and I appreciate all that you do for me. <3 <3 <3